The first session, with Stéphane Couture, Gretchen King, and Sophie Toupin of McGill University, looked at the World Forum of Free Media (WFFM) and the Charter of Free Media. This discussion touched on some of the issues I've felt myself around the World Social Forum, including its institutionalisation. However, the panellists noted that their experience of the 2015 Forum was that there was space (often outside of official scheduling) for important collaborations. Gretchen talked about some of the debates that informed the development of the Charter, and I particularly liked her point that 'hegemonic' media is a better term than 'mainstream' media: we want alternatives that challenge existing power structures and narratives, and that means that we do want some independent media to become mainstream, in the sense of being broadly accessible and reaching a wide audience. On a related point, both Sophie and Gretchen spoke about the need to create bridges between different communities: hackers, media activists, feminists, queer activists, and others. Often, the cultures within these groups may be different (even when they overlap), but there's a need to find ways to collaborate (and, as Stephane says, there's also a need for this to be fun). As the 2016 WSF approaches, there's a hope that activists in Montreal can work to set up autonomous infrastructures, including mesh networks, that will not only be a resource for the forum but also continue afterwards, and be a space for people to learn how to set these up themselves.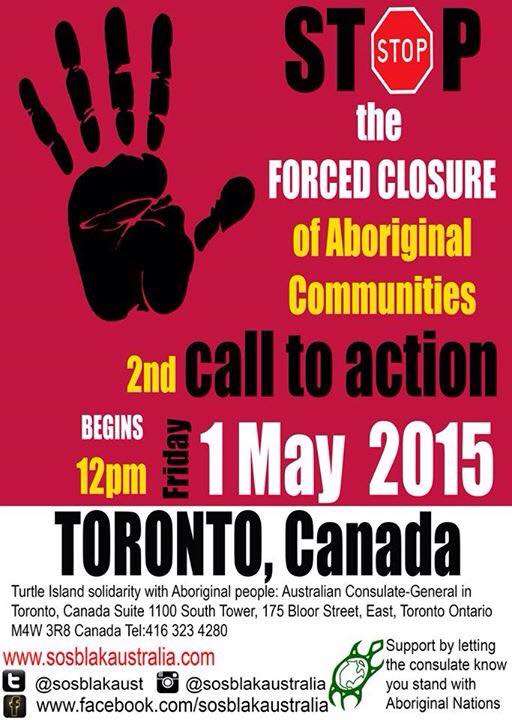 I missed the second panel to go to the #SOSblakAustralia protest at the Australian embassy, although I didn't manage to find the other protesters. Hopefully they made it there at some point!
The lunchtime talk, by Loreto Bravo and Peter Bloom, looked at community radio stations and cellphone networks in Oaxaca, Mexico. The growth of indigenous media in Oaxaca comes out of the specific history of the area, and a form of community governance and social reproduction that Floriberto Díaz, Jaime Martínez Luna, and others have called comunalidad. Comunalidad includes a concept of communities linked to specific territories; structures of community governance rooted in traditional law and community assemblies rather than representative politics; community work (tequio) which all community members must contribute to, even if overseas; and festivals that build connections and allow people to build their organising skills.
Loreto talked about the ways in which women have lead community media initiatives since the 2006 protests in Oaxaca, when a group of women took over the mainstream TV station, Channel 9, living inside the station for a month, as well as 12 radio stations. After 2006, many local radio stations have started in the area, with people talking about their own issues in their languages, but the challenge is to provide education in relevant technology-especially free software-to allow them to appropriate it. This means not just how to use computers and mixers, but also how to fix radio transmitters and other hardware problems.
Peter's talk focused on Rhizomatica's work setting up autonomous GSM networks, at first working with people from community radios and extending those networks and then building cellular networks for communities from scratch. Rhizomatica can do this much more cheaply than major cellular providers, at a cost that communities can fund themselves, which also makes it much cheaper to make and receive calls. However, all of this was done illegally at first: only .14% of the spectrum is available to freely use without permission, and Rhizomatica set up community networks before getting permission. Usually, all of the spectrum is sold off to the highest bidder often for billions of dollars). Rhizomatica was lucky in that the Mexican government had a portion of unused spectrum, and gave retrospective permission for it to be used. It's important to think about how to set up networks that can be defended from attacks by the state or capital: in the case of these cellular networks, there are 19 different networks, one in each community, and they network but would have to be shut down individually. If the government tried it then communities wouldn't cooperate, and the government would then also need to answer questions about their failure to provide coverage.
There were also some hints at the challenges involved in how these networks are run and might reproduce existing structural inequalities. Hosting communications data (such as records of calls) within the community may allow people to escape external surveillance. However, it can also expose at-risk groups to surveillance within the community: Peter noted that men had asked him, "what if someone calls my wife while I'm out? How will I know?" Loreto also talked about the ways in which women's work with community radio might strain their financial resources, create problems with childcare, and expose them to the risk of paramilitary attack.
The panel on Activating Bodies In/to Digital Media Networks: Materiality, Narratives and Molotov Cocktails began with Marusya Bociurkiw's work on feminist involvement in the Euromaidan movement. She talked about the absolute necessity of combining digital research with embodied research (which we've also argued for here and here). Marusya said that her initial ideas about the importance of social media in the protests were challenged once she travelled to Ukraine: Facebook and Twitter mattered, but it was the massed bodies on the ground, people's willingness to face risks for their beliefs, that made the real difference. Her documentary focused on the Women's Battalion, which started on Facebook but was used to organise actions on the ground.
I liked Laura Forlano's discussion of the ways in which her diabetes diagnosis prompted her reflections on 'Hacking the Feminist Body: Media, Materiality and Things'. Laura critiqued the ways in which hacker/maker identities are constructed, and suggested that a feminist hacker ethic would be built on a deeply personal reflective practice. Rather than making sweeping revolutionary calls for openness based on false discourses of meritocracy, feminist hacker ethics would be based on our own hybrid modes of existence. This also needs to create interventions into the capitalist cycle of consumption.
Mél Hogan's 'Electromagnetic Soup: EMFs, Bodies, and Surveillance' built on these themes, opening with a discussion of the invisibility of how wireless data transfers and is stored. Cell phones become an extension of our bodies, our brains, and also our privacies, and this is an embodied process: we hold phones carry, them, expose our voices to them, and the hardware we use is produced and discarded in processes which are often tremendously environmentally damaging. This opens up questions of ownership and responsibility that are rarely addressed, including issues about how our bodies might interact with the electromagnetic fields that increasingly surround us.
The final presentation in the panel, from Mary Elizabeth Luka, looked at the CRTC consultation process around 'Let's talk TV' and the ways in which rhetorics of consultation and collaboration are frequently undermined by an emphasis on the 'citizen-consumer'. There's an assumption that a more "competitive" television model will automatically benefit consumers, but this is often in opposition to the idea of media as a public good that facilitates (and is facilitated by) citizen engagement.
The final panel, Policing the Populace: Corporate Media, Social Media and the Mobilization of State Violence against Racialized Minorities, is topical at the moment. I'm glad that many of the presenters addressed their own personal standpoints with regard to state violence: it feels surreal, sometimes, for presentations on such deep issues to be presented at such a distance from our lives. I can understand the impulse, though, both for those privileged enough not to be personally affected and for those whose lives are shaped by the threat or actuality of violence, and of course do it myself (since it's often hard to overcome this academic training in a pretence at 'objectivity').
Derek Antoine and Miranda J. Brady talked about the media discourses around the Elsipogtog struggle, contrasting mainstream media representations with those from the Halifax media co-op. Mainstream media coverage of Indigenous issues in Canada shifts between a binary of 'noble or ignoble savages', with Native peoples positioned as outside of the Western narrative of technology and progress. Struggles like those at Elsipogtog are presented as issues of law and order, or of well-intentioned but naive groups resisting technological progress. In contrast, the Halifax media co-op contextualised this struggle with reference to a history of colonialism, settler violence, broken treaties, and Indigenous resistance, as well as highlighting the processes of organising and deliberation happening around the Elsipogtog protests.
Chenjerai Kumanyika followed with 'Beyond Techno-Utopianism: The Twitter Activism of @OpFerguson'. He argued that @OpFerguson, as well as being a valuable tool for organising, has also served as a key archive of the Black Lives Matter movement. Kumanyika said that while there are valid concerns around 'Twitter activism', these should not centre on whether it displaces on-the-ground work, but rather on the various ways in which capitalist platforms like Twitter and their media ecologies rely on systems of racial inequality and environmentally-unsustainable production and disposal. We also need to remember that while we often think of social media as authentic, what we see is mediated by algorithms and other aspects of the platforms. Nevertheless, @OpFerguson has served important important functions for organisers, providing counter-news information, promoting offline efforts, fundraising, representing and building solidarity, and also playing a role in consolidating leadership. Accounts like @OpFerguson can also help share attention for new waves of organising.
Aziz Douai and Julianne Condon spoke on 'Police Brutality in the Age of New Media: Online Audiences and the Framing of Police Use of Force against Racial Minorities in Canada', focusing on the 2013 police shooting of Sammy Yatim. They noted that while the Toronto Sun's coverage of the shooting was conservative, erasing issues of structural inequality and framing the killing as a law and order issue, a significant proportion of users rejected this narrative in their comments. Instead, readers provided counter-framing, citing issues with systemic racism and police inability to deal with mental health issues.
Finally, Doug Tewksbury spoke on 'Social Media, Shared Empathy, and Online-Offline Interconnectedness among Ferguson Protesters'. He talked about the ways in which social media can build community, interacting with offline interactions. He drew on Kirsty Robertson's work on tear gas epiphanies: moments of embodied togetherness and a shared rejection of the disciplinary system (unevenly) imposed on them. (Which for me also suggests moments in which relatively-privileged protesters become aware of state violence that's a part of others' everyday experiences.) Social media can bolster the togetherness that comes out of these moments, allowing people to share ideas, knowledge, narratives, and also feelings that are necessary to create movements.
Sadly, I've missed the night's keynote from Astra Taylor – it looks amazing, but 9am-9pm is too many hours of conference for me, so I'll console myself with reading a little more of her excellent book tonight.