May 25, 2018 § Leave a comment
My rough and very incomplete notes from the first day of ICA. There were a bunch of interesting points that I haven't noted because I was distracted or tired or too busy listening, and great papers that I sadly missed. I mostly use these notes to follow up on work later, but if they're useful to you too, that's great!
Understanding Kurdish Media and Communications: Space, Place and Materiality
Theaters of Inhibition and Cinemas of Strategy: Censorship, Space, and Struggle at a Film Festival in Turkey. Josh Carney, American University of Beirut, spoke about Bakur (North), a film about the everyday life of PKK guerrillas. When the Turkish government banned screenings of Bakur, people met at the theatres anyway to discuss the censorship. The directors of Bakur will go on trial in a few days for 'terrorist propaganda'. Struggles over censorship were tied to struggles over the city space of Istanbul, perhaps in response to the Turkish government's attempts to erase ideas and spaces that it finds disagreeable. The government wanted to erase Bakur because it was a testament to the peace process, and to the government's withdrawal from it. This censorship can be seen as an attempt to erase the promise and possibility of peace.
Cinematic Spaces of Solitude, Exile, and Resistance: Telling Kurdish Stories from Norway, Iran, and Turkey. Suncem Koçer, Kadir Has University, spoke on Kurdish filmmaking as a transnational platform for identity politics. Bahman Ghobadi talks about Kurds as a people on the move, and says that cinema as the art of movement is therefore the most suitable medium for documenting Kurdish stories.
Infrastructures, Colonialism and Struggle. Burce Celik, Loughborough University, argues that Kurdish transnational media is still embedded in historical, political, and territorial contexts. Technical and economic concerns, as well as national borders, also shape networks. State interventions can take place at multiple levels. For example, while the Turkish government may not be able to stop television transmissions from Europe, there are reports of police smashing satellite antennas in Kurdish villages. While there are no country-wide Internet shut-downs, there have been region-wide shut-downs in Kurdish provinces of Turkey. We need to consider the materiality of media infrastructures.
Questions: I asked if there were attempts to shift film screenings and other spaces that had been shut down online. Carney noted that film-makers were very resistant to doing this, as film screenings and movie festivals were seen as important. Bakur was leaked online, and the directors asked that people didn't share or watch it. Koçer affirmed this, and said that censorship in a way also served a generative purpose for film-makers.
Racism in Digital Media Space
Racism in the Hybrid Media System: Analyzing the Finnish 'Immigration Debate'Gavan Titley, University of Helsinki. Mervi Pantti, U of Helsinki and Kaarina Nikunen, U of Tampere. Pantti opens by noting that even naming racism as racism is often contentious. 'Hybra' project – looking at understandings of racism shaped and contested in the interactive everyday cultures of digital media. This paper looks particularly at Suomi24, 'Finland 24', one of the largest non-English-language commenting site online. Anti-racist activism in the 1990s helped to fix racism in the public imagination as a result of movements of people, rather than deeper structures. 'Racism' is used broadly in Finnish public discourse to mean 'discrimination' (for example, 'obesity racism'), which removes it from it's particular context. Conservatives talk about "opinion racism": claims that journalists and others with a 'multicultural agenda' are intolerant of other viewpoints. Politically, it's very difficult to mobilise in terms of racism and anti-racism because of the ways in which this language works.
More Than Meets the Eye: Understanding Networks of Images in Controversies Around Racism on Social Media. Tim Highfield, Digital Media Research Centre, Queensland University of Technology, and Ariadna Matamoros-Fernandez, Queensland University of Technology. This research, focused on everyday visual representations of racism and counter-racism practices, comes out of the wider literature on racism online that have largely focused on text. It draws on Matamoros-Fernandez's conceptual work around platform racism. This article looks at the online responses to Adam Goodes' war cry, many of which used images as a way to push the boundaries for racist viewpoints (often via homophobia). Indigenous social media users frequently added their own images to push back against the racism expressed against Goodes. Mainstream media, though, frequently reinforced hegemonic discourses of racism, rather than giving space to Indigenous voices. There were salient practices on Twitter that are interesting when thinking about platform racism: visual call-outs of racism, often of which were a way of performing distance from Australian racism, which had the effect of amplifying racism. Rather than performing 'white solidarity' by amplifying racism, it would be useful to do more to share Indigenous voices and critiques of racism, and link this particular incident to broader structures of racism in Australian society. Visual cultures are an opportunity to understand cover and everyday racism on social media platforms. Even with changes introduced by various platforms to combat racism (after user pressure), there is a lack of consistency and transparency in responses to platformed racism.
Online Hate Speech: Genealogies, Tensions and Contentions. Eugenia Siapera, Dublin City University, Paloma Viejo, Dublin City University and Elena Moreo, Dublin City University.
Theorising Online Racism: The Stream, Affect and Power Laws. Sanjay Sharma, Brunel University. Racialism isn't an individual act, it's embedded in material techno-social relations. Ambient racism creates an atmosphere of background hostility. Microaggressions may seem isolated and minor, but they can be all-pervasive.
Working it Out: Emergent Forms of Labor in the Global Digital Economy
Nothing left to lose: bureaucrats in Googleland: Vicki Mayer, Tulane. Stories about Google's centrality to the economy are highly mediated, even for those working within the organisation. Bureaucrats aren't meant to sell Google, but they have been pushed to 'samenwerking' (planned collaboration) to 'solve problems' individually with little structural support. Interviewees used the word "innovative" most often to describe how workers were trying to do more varied tasks with less time and money, while also trying to publicise their achievements. New companies come in all the time saying that they'll create thousands of jobs, but with limited real results.

Developing a Farmworker Low-Power Radio Station in Southern California. Carlos Jimenez, University of Denver. Local Indigenous workers speak Mixteco and Zapotec (sp?) (which is very different from English and Spanish), and listen to Chilena songs – no radio stations in Oxnard catered to this language or musical tastes. The Mexteco Indigena Community Organizing Project partnered with the community. When there was an application made for Radio Indígena for a relatively low-powered antenna, another station fifty miles away, KDB93.7PM, registered a complaint. At first Radio Indígena organisers called to ask them to remove their complaint, but they refused until they received a letter from farmworkers in the area. After a while, the radio community wanted to try shifting towards online transmissions rather than through the radio antenna. But they found that farmworkers' typical data plans would stop them from listening in. The cost of new media technologies place a greater burden on individual listeners, rather than on the broadcaster.
Production, moderation, representation: three ways of seeing women of color labor in digital culture, Lisa Nakamura, University of Michigan. The lower you go in the chain of production, the more people who aren't white men you see. It is useful to ask whose labour we misattribute to white men, or even algorithms, on digital platforms. US digital work has been both outsourced and insourced, including to women on reservations. Fairchild 'invaded' reservations, and was one of the largest employers in the Navajo Nation until resistance to firings from the American Indian Movement, and unionisation, lead to them leaving. The plant there had produced "high reliability" components, which needed very low failure rates. Employing Navajo workers allowed Fairchild to pay less than the minimum wage. Workers were told that they were building parts for televisions, radios, calculators, and so on (with military applications not mentioned). In a current analogue, moderation work on sites like Facebook is outsourced, sometimes to volunteers. We might also look at the ways in which people like Alexis Ohanian (of Reddit) took credit for the work of teenager Rayouf Alhumedhi in the creation of a hijab emoji.
Riot Practices: Immaterial Labor and the Prison-Industrial Complex. Li Cornfeld, Amherst College. There's a 'mock prison riot' at the former state penitentiary in Moundsville yearly, which is a combination of a trade show and a training exercise for 'correctional officers'. This isn't what we think of when we consider 'tech events', but we should take its claims to be a tech event seriously. It's a private event, with global attendees. This is one of the ways in which the US exports its technologies of control and norms. It's also a space to incorporate participants in the tech development process (for example, adding cords to radios for places where batteries are scarce). Technologies of control aren't just weapons, they include phones, wristbands, and other tracking technologies – many of these are marketed as being not just for prisons, but also for other settings, such as hospitals.
Moving Broadband From Sea to Land: Internet Infrastructure and Labor in Tanzania. Lisa Parks, Massachusetts Institute of Technology. Parks wanted to understand how internet moves from sea to land, and what kinds of digital labor exist in Tanzania to help carry out these operations. She spoke to people who are both formal and informal IT workers, often carrying out risky forms of labour to make the internet more widely available. Drawing on Vicki Mayer, and Labato and Thomas' The Informal Media Economy. IT 'development' projects often lead to unused infrastructure – technology that's in place, but left unpowered, disconnected, in need of assembly or repair. In Bunda, there are people working in vital jobs like repairing or charging phones. The cost of charging phones is scaled by income. Mobile phone repair workers have designed their own phone which they are going to ask Foxconn to manufacture.
Public Scholars: Engaging With Mainstream Media as Activism
This was a panel discussion, with Amy Adele Hasinoff, University of Colorado Denver;  Charlton McIlwain, New York University; Jean Burgess, Queensland University of Technology; Victor W. Pickard and Maria Repnikova, Georgia State University.
The benefits of media engagement aren't always direct and obvious – sometimes, for example, they connect unexpected groups and help build alliances. Framing material for a public audience with interventions from editors can be useful in thinking about how we communicate our research, including to other academics outside our own disciplines. Speakers were unsure about the benefits of engaging in hostile spaces – are there useful ways to engage with right-wing media, for example?
There was a lot of interest in the potential issues with engaging with the media. People's experiences with engaging has differed – some speakers had been discouraged for engaging too much, others felt it was seen as a fundamental part of their job. However, there can be a problem keeping a balance between public scholarship (including dealing with hostile responses) and more traditional academic outputs. It's important to discriminate between 'high value' engagement opportunities and junk.
University support for academics under attack can vary – sometimes they'll provide legal support, but this isn't necessarily reliable (or publicised). You'll often only find out what the university responses to these issues are when a problem comes up. Many of the attacks academics face when speaking publicly aren't necessarily overt: they might include subtle red-baiting, or questioning about how your background (for example, noting Maria Repnikova's Russian surname) impacts on your ideas.
There were suggestions for those starting out with media engagement and not yet inundated with media requests:
Make sure your colleagues know that you're interested in media engagement: they should be passing on relevant media queries;
Actively contact media when you have research that's relevant and important – this might involve proposing stories to journalists/editors, or tweeting at journalists.
Have useful research to share (especially quantitative data).
How not to get fired? You can't avoid making any controversial statements – if the press decide to go after you, they will. But aim to have evidence to back your point up, and hopefully aim to also have solidarity networks. (I'd add: maybe join your union!)
When engaging with the media, consider the formats that work for you: text, radio, or television?
Activism, Social Justice and the Role of Contemporary Scholarship
Sasha Costanza-Chock, Massachusetts Institute of Technology. Out of the Shadows, into the Streets! was the result of hands-on, participatory media processes. There isn't a divide between scholarship and working with social justice organisations: it makes the work more accountable to the people working on the ground, and to their needs. Work with Out for Change led Costanza-Chock to shift their theoretical framework to one of transformative media: it's about media-making as a healing and identity-forming process.
Kevin Michael Carragee, Suffolk University, began by making a distinction between activist scholarship and scholarship on activism. The former requires establishing partnerships with organisations and movements – there are more calls for this than actual examples. Carragee talked about his work with the Media Research and Action Project. One of the lessons of MRAP is that you want to try to increase the resources available to the group you're working with. We need to recognise activists as lay scholars. Activists and scholars don't share the same goals, discourses, and practices – we need to remember that.
Rosemary Clark-Parsons, The Annenberg School for Communication at the University of Pennsylvania. Clark-Parsons draws on feminist standpoint theory: all knowledge is contextually situated; marginalised communities are situated in ways that give them a broader view of power relations; research on those power relations should begin with and centre marginalised communities. To do participatory research, we must position ourselves with activists, but we have to be reflexive about what solidarity means and what power relationships are involved. It's important to ground theory in practitioners' perspectives.

Jack Linchuan Qiu, The Chinese University of Hong Kong, talked about the problems with the 'engagement and impact' framework, which doesn't consider how our work has an impact, and to what ends. We need to have hope. As academics we have the luxury of finding hope, and using our classrooms and publications to share that hope.

Chenjerai Kumanyika, Rutgers University – School of Communication and Information. This kind of research offers a corrective to some of the tendencies that exist in our field. Everything Kumanyika has done that's had an impact has been an "irresponsible job decision". We have to push back against the priorities of the university, which are about extending empire. We have to push back against understanding class just as an identity parameter, as opposed to a relation between struggles. We need to sneak into the university, be in but not of it.
It was a wrench leaving this final panel of the day, but I had to go meet my partner and Nonsense Baby, so sadly I left before the end.
May 2, 2015 § Leave a comment
The first session, with Stéphane Couture, Gretchen King, and Sophie Toupin of McGill University, looked at the World Forum of Free Media (WFFM) and the Charter of Free Media. This discussion touched on some of the issues I've felt myself around the World Social Forum, including its institutionalisation. However, the panellists noted that their experience of the 2015 Forum was that there was space (often outside of official scheduling) for important collaborations. Gretchen talked about some of the debates that informed the development of the Charter, and I particularly liked her point that 'hegemonic' media is a better term than 'mainstream' media: we want alternatives that challenge existing power structures and narratives, and that means that we do want some independent media to become mainstream, in the sense of being broadly accessible and reaching a wide audience. On a related point, both Sophie and Gretchen spoke about the need to create bridges between different communities: hackers, media activists, feminists, queer activists, and others. Often, the cultures within these groups may be different (even when they overlap), but there's a need to find ways to collaborate (and, as Stephane says, there's also a need for this to be fun). As the 2016 WSF approaches, there's a hope that activists in Montreal can work to set up autonomous infrastructures, including mesh networks, that will not only be a resource for the forum but also continue afterwards, and be a space for people to learn how to set these up themselves.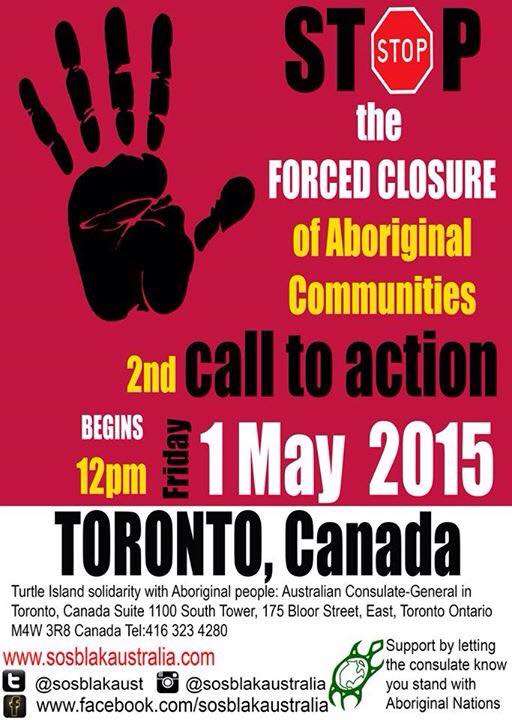 I missed the second panel to go to the #SOSblakAustralia protest at the Australian embassy, although I didn't manage to find the other protesters. Hopefully they made it there at some point!
The lunchtime talk, by Loreto Bravo and Peter Bloom, looked at community radio stations and cellphone networks in Oaxaca, Mexico. The growth of indigenous media in Oaxaca comes out of the specific history of the area, and a form of community governance and social reproduction that Floriberto Díaz, Jaime Martínez Luna, and others have called comunalidad. Comunalidad includes a concept of communities linked to specific territories; structures of community governance rooted in traditional law and community assemblies rather than representative politics; community work (tequio) which all community members must contribute to, even if overseas; and festivals that build connections and allow people to build their organising skills.
Loreto talked about the ways in which women have lead community media initiatives since the 2006 protests in Oaxaca, when a group of women took over the mainstream TV station, Channel 9, living inside the station for a month, as well as 12 radio stations. After 2006, many local radio stations have started in the area, with people talking about their own issues in their languages, but the challenge is to provide education in relevant technology-especially free software-to allow them to appropriate it. This means not just how to use computers and mixers, but also how to fix radio transmitters and other hardware problems.
Peter's talk focused on Rhizomatica's work setting up autonomous GSM networks, at first working with people from community radios and extending those networks and then building cellular networks for communities from scratch. Rhizomatica can do this much more cheaply than major cellular providers, at a cost that communities can fund themselves, which also makes it much cheaper to make and receive calls. However, all of this was done illegally at first: only .14% of the spectrum is available to freely use without permission, and Rhizomatica set up community networks before getting permission. Usually, all of the spectrum is sold off to the highest bidder often for billions of dollars). Rhizomatica was lucky in that the Mexican government had a portion of unused spectrum, and gave retrospective permission for it to be used. It's important to think about how to set up networks that can be defended from attacks by the state or capital: in the case of these cellular networks, there are 19 different networks, one in each community, and they network but would have to be shut down individually. If the government tried it then communities wouldn't cooperate, and the government would then also need to answer questions about their failure to provide coverage.
There were also some hints at the challenges involved in how these networks are run and might reproduce existing structural inequalities. Hosting communications data (such as records of calls) within the community may allow people to escape external surveillance. However, it can also expose at-risk groups to surveillance within the community: Peter noted that men had asked him, "what if someone calls my wife while I'm out? How will I know?" Loreto also talked about the ways in which women's work with community radio might strain their financial resources, create problems with childcare, and expose them to the risk of paramilitary attack.
The panel on Activating Bodies In/to Digital Media Networks: Materiality, Narratives and Molotov Cocktails began with Marusya Bociurkiw's work on feminist involvement in the Euromaidan movement. She talked about the absolute necessity of combining digital research with embodied research (which we've also argued for here and here). Marusya said that her initial ideas about the importance of social media in the protests were challenged once she travelled to Ukraine: Facebook and Twitter mattered, but it was the massed bodies on the ground, people's willingness to face risks for their beliefs, that made the real difference. Her documentary focused on the Women's Battalion, which started on Facebook but was used to organise actions on the ground.
I liked Laura Forlano's discussion of the ways in which her diabetes diagnosis prompted her reflections on 'Hacking the Feminist Body: Media, Materiality and Things'. Laura critiqued the ways in which hacker/maker identities are constructed, and suggested that a feminist hacker ethic would be built on a deeply personal reflective practice. Rather than making sweeping revolutionary calls for openness based on false discourses of meritocracy, feminist hacker ethics would be based on our own hybrid modes of existence. This also needs to create interventions into the capitalist cycle of consumption.
Mél Hogan's 'Electromagnetic Soup: EMFs, Bodies, and Surveillance' built on these themes, opening with a discussion of the invisibility of how wireless data transfers and is stored. Cell phones become an extension of our bodies, our brains, and also our privacies, and this is an embodied process: we hold phones carry, them, expose our voices to them, and the hardware we use is produced and discarded in processes which are often tremendously environmentally damaging. This opens up questions of ownership and responsibility that are rarely addressed, including issues about how our bodies might interact with the electromagnetic fields that increasingly surround us.
The final presentation in the panel, from Mary Elizabeth Luka, looked at the CRTC consultation process around 'Let's talk TV' and the ways in which rhetorics of consultation and collaboration are frequently undermined by an emphasis on the 'citizen-consumer'. There's an assumption that a more "competitive" television model will automatically benefit consumers, but this is often in opposition to the idea of media as a public good that facilitates (and is facilitated by) citizen engagement.
The final panel, Policing the Populace: Corporate Media, Social Media and the Mobilization of State Violence against Racialized Minorities, is topical at the moment. I'm glad that many of the presenters addressed their own personal standpoints with regard to state violence: it feels surreal, sometimes, for presentations on such deep issues to be presented at such a distance from our lives. I can understand the impulse, though, both for those privileged enough not to be personally affected and for those whose lives are shaped by the threat or actuality of violence, and of course do it myself (since it's often hard to overcome this academic training in a pretence at 'objectivity').
Derek Antoine and Miranda J. Brady talked about the media discourses around the Elsipogtog struggle, contrasting mainstream media representations with those from the Halifax media co-op. Mainstream media coverage of Indigenous issues in Canada shifts between a binary of 'noble or ignoble savages', with Native peoples positioned as outside of the Western narrative of technology and progress. Struggles like those at Elsipogtog are presented as issues of law and order, or of well-intentioned but naive groups resisting technological progress. In contrast, the Halifax media co-op contextualised this struggle with reference to a history of colonialism, settler violence, broken treaties, and Indigenous resistance, as well as highlighting the processes of organising and deliberation happening around the Elsipogtog protests.
Chenjerai Kumanyika followed with 'Beyond Techno-Utopianism: The Twitter Activism of @OpFerguson'. He argued that @OpFerguson, as well as being a valuable tool for organising, has also served as a key archive of the Black Lives Matter movement. Kumanyika said that while there are valid concerns around 'Twitter activism', these should not centre on whether it displaces on-the-ground work, but rather on the various ways in which capitalist platforms like Twitter and their media ecologies rely on systems of racial inequality and environmentally-unsustainable production and disposal. We also need to remember that while we often think of social media as authentic, what we see is mediated by algorithms and other aspects of the platforms. Nevertheless, @OpFerguson has served important important functions for organisers, providing counter-news information, promoting offline efforts, fundraising, representing and building solidarity, and also playing a role in consolidating leadership. Accounts like @OpFerguson can also help share attention for new waves of organising.
Aziz Douai and Julianne Condon spoke on 'Police Brutality in the Age of New Media: Online Audiences and the Framing of Police Use of Force against Racial Minorities in Canada', focusing on the 2013 police shooting of Sammy Yatim. They noted that while the Toronto Sun's coverage of the shooting was conservative, erasing issues of structural inequality and framing the killing as a law and order issue, a significant proportion of users rejected this narrative in their comments. Instead, readers provided counter-framing, citing issues with systemic racism and police inability to deal with mental health issues.
Finally, Doug Tewksbury spoke on 'Social Media, Shared Empathy, and Online-Offline Interconnectedness among Ferguson Protesters'. He talked about the ways in which social media can build community, interacting with offline interactions. He drew on Kirsty Robertson's work on tear gas epiphanies: moments of embodied togetherness and a shared rejection of the disciplinary system (unevenly) imposed on them. (Which for me also suggests moments in which relatively-privileged protesters become aware of state violence that's a part of others' everyday experiences.) Social media can bolster the togetherness that comes out of these moments, allowing people to share ideas, knowledge, narratives, and also feelings that are necessary to create movements.
Sadly, I've missed the night's keynote from Astra Taylor – it looks amazing, but 9am-9pm is too many hours of conference for me, so I'll console myself with reading a little more of her excellent book tonight.