It was refreshing to begin the conference with plenary speakers bringing excellent feminist and queer analysis to bear on Internet Studies. Mary Gray, Larissa Hjorth, and Susanna Paasonen all posed challenges to the dominant focuses of Internet Studies. Gray questioned technology- (and particularly device-) centred approaches, and the accompanying focus on 'big data'. (I've also been having some useful discussions around this latter focus as gendered: this push towards a 'scientific' and quantitative approach has important implications when women are still discouraged-both subtly and unsubtly-from engagement in STEM fields and the statistical training required for big data projects.)
Gray also critiqued the ongoing focus on normative users in research, looking instead at 'boundary publics' – in this case queer rural youth. Hjorth, similarly, implicitly challenged the common focus on (young, well-off) men and technology use by looking at the ways in which mobile use is affecting the space of 'the domestic', and the relationship between mothering, smartphones, and labour.
Finally, Susanna Paasonen provided a useful counter to the assumption (perhaps more common in popular narratives than academic discourse) that digital content is disembodied. This is often tied either to a narrative of loss (of authenticity, of tactility), or a narrative of freedom (from physical limitations). Paasonen argues, in contrast, that the materiality of consuming digital content matters: digital content is always mediated through particular devices, which have different affordances and encourage particular kinds of uses.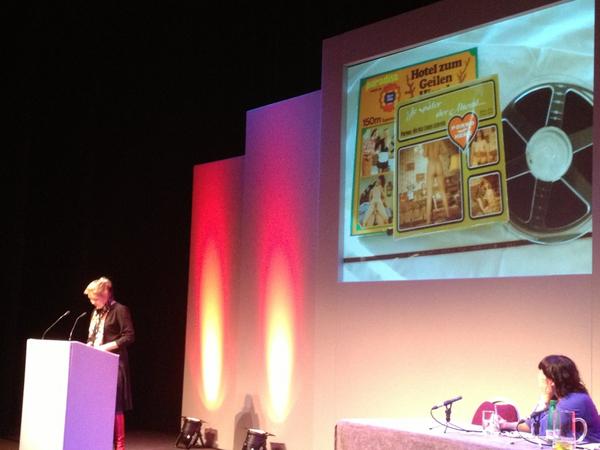 Paasonen also got quite a few scandalised/delighted titters from the audience by showing a short clip from a porn film (which, she notes, she inherited in Super 8 form from her parents). While this added some (more) humour to the talk, I think it's also important politically. The politics of pornography have always played a large role in discussions of the Internet. We need to be able to talk productively about pornography not only in order to understand the Internet, but also because it plays such a large role in the construction of sexuality and desire in many societies.
I'm looking forward to reading more work by all of these speakers, especially as my still-slighly-jetlagged self is having some trouble processing the more theoretically dense aspects of the talks in aural form. Corrections, comments, and reading suggestions are welcome!