October 24, 2012 § Leave a comment
The day began with 'Mobile ecologies: mobile phones and young people's online participation in public access venues in Cape Town' from Marion Walton and Jonathan Donner. Walton started by saying that mobile Internet in South Africa doesn't, for the most part, mean smart phones, the Web, or Twitter: it means "feature phones", and probably platforms like Mxit. Southern ecologies of use for mobile phones are also very different from Northern contexts: most public schools don't have the resources to provide training in technology, and the overlap between mobile use and the spheres of tertiary education and the workplace is limited (since many people don't have the opportunity to study further and unemployment is high). Those who are poorest pay the highest costs for data, as prepaid data access is far more expensive than broadband access. Putting this together allows a better understanding of mobile Internet use beyond well-off users in the North: as Internet handsets become more accessible, they amplify some people's participation more than others, interacting with existing inequalities in diverse ways.
Later in the session, Magdalena Olszanowski looked at Instagram's spaces of flow. This is one of those talks where I knew absolutely nothing coming in (I don't use Instagram, let alone study it) , but there were some useful links with the reading I've been doing lately on space/place that I want to explore later. It was also lovely seeing the slides, which (as you might expect) were illustrated with beautiful photos.
The next session was a tough choice between ethnographies of online and mobile media and a session on social movements. I ended up going to the latter, but I'll have to chase down the papers on ethnographies later (and this talk on the ethnography of microblogging and this book and, now that I look again at the program, also the work on social media: technologies of control). There were a couple of good papers in the social movements session on the use of new media in Egypt and Tunisia, questioning the dominant narratives of social media use as key to organising on the ground. Simon Lindgren's work on disruptive spaces also looks useful, including the recommendation to look at the edges of networks as well as the cores in research.
There were also a few papers I missed (or other links that turned up in the tweet stream): Agency, Resistance, and Orders of Dissent, Farida Vis' Social Media, Social Change, Johnny Unger's work on Occupy, and an open access special issue on socially mediated publicness,
Tim and I presented in the following panel (slides to come), on politics and civic engagement, so my note-taking was limited. Tim's paper on '#auspol, #qldpol, and #wapol: Twitter and the new Australian political commentariat' will probably be of interest to some readers (so keep an eye on his site for updates), Sharon Strover and Sujin Choi's 'YouTube and civic engagement' was notable for its examination of reply networks on YouTube, and Sheetal Agarwal et al's paper (also out of SoMe Lab) provides a good model for understanding OWS as a networked organisation (or a series of interconnected networked organisations).
The day (and the conference) ended with a lively discussion from my colleagues Mike Kent, Tama Leaver, and Kate Raynes-Goldie on the use of Facebook in tertiary education, with Clare Lloyd's research presented in absentia. Mike presented the most positive perspective, arguing that while boundaries need to be set, Facebook provides a familiar environment for student engagement that stimulates discussion effectively. Tama's position was a cautious but still predominantly positive, and focused specifically on Facebook, student engagement, and the 'Uni Coffee Shop' group. Clare Lloyd and Kate Raynes-Goldie argued for the need to be careful about context collapses when using Facebook and to avoid getting stuck in a false choice between Facebook and Blackboard. All in all, the panel and following discussion was in favour of using Facebook in a carefully-informed and well-managed way.
October 19, 2012 § 1 Comment
It was refreshing to begin the conference with plenary speakers bringing excellent feminist and queer analysis to bear on Internet Studies. Mary Gray, Larissa Hjorth, and Susanna Paasonen all posed challenges to the dominant focuses of Internet Studies. Gray questioned technology- (and particularly device-) centred approaches, and the accompanying focus on 'big data'. (I've also been having some useful discussions around this latter focus as gendered: this push towards a 'scientific' and quantitative approach has important implications when women are still discouraged-both subtly and unsubtly-from engagement in STEM fields and the statistical training required for big data projects.)
Gray also critiqued the ongoing focus on normative users in research, looking instead at 'boundary publics' – in this case queer rural youth. Hjorth, similarly, implicitly challenged the common focus on (young, well-off) men and technology use by looking at the ways in which mobile use is affecting the space of 'the domestic', and the relationship between mothering, smartphones, and labour.
Finally, Susanna Paasonen provided a useful counter to the assumption (perhaps more common in popular narratives than academic discourse) that digital content is disembodied. This is often tied either to a narrative of loss (of authenticity, of tactility), or a narrative of freedom (from physical limitations). Paasonen argues, in contrast, that the materiality of consuming digital content matters: digital content is always mediated through particular devices, which have different affordances and encourage particular kinds of uses.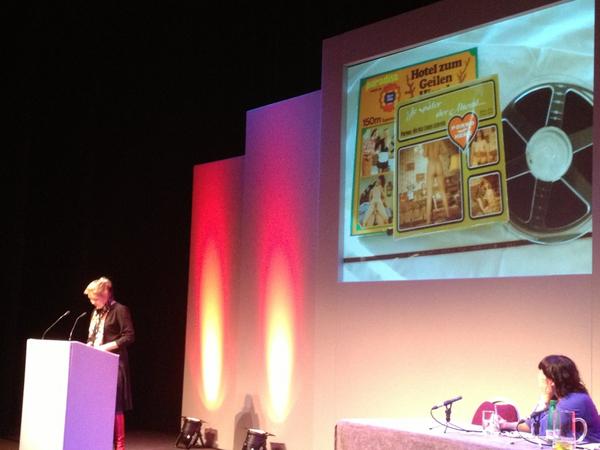 Paasonen also got quite a few scandalised/delighted titters from the audience by showing a short clip from a porn film (which, she notes, she inherited in Super 8 form from her parents). While this added some (more) humour to the talk, I think it's also important politically. The politics of pornography have always played a large role in discussions of the Internet. We need to be able to talk productively about pornography not only in order to understand the Internet, but also because it plays such a large role in the construction of sexuality and desire in many societies.
I'm looking forward to reading more work by all of these speakers, especially as my still-slighly-jetlagged self is having some trouble processing the more theoretically dense aspects of the talks in aural form. Corrections, comments, and reading suggestions are welcome!